Many have their story with Alana Chen, or they have written her story for her. This is my story with Alana, and my attempt to share the beauty of her soul to the world. Somewhere in her journal, Alana said she knew she had a powerful story and it needed to be shared with others. Little did we know that it would take her devastating and tragic death for her life to be in the lime light. But, this was not the story she wanted to tell. No. Her story lays in the very Heart of her Parents. Not her earthly parents, her heavenly Parents.
In the mysterious providence of God, I somehow remember every single memory I have with Alana. I have a terrible memory and I have a reputation for it! Yet, every encounter I had with her from the first moment we met to the last phone call we shared before her death is still fresh in my mind as if it were yesterday. Usually these kind of posts can be over the top- "this person was the light of the room, I never would have seen this coming, they were so happy, they were the best person I have ever met"- the list goes on and on. Many of those can often be exaggerated, but with Alana:
If anyone causes one of these little ones–those who believe in Me–to stumble, it would be better for them to have a large millstone hung around their neck and to be drowned in the depths of the sea. (Matt 18:6)
"Little one" is the story of Alana Chen. Little one is the identity of Alana. And little one is the way her Heavenly Father looked at her. Who is Alana? What makes her story so different than anyone else's? Is she the "Lesbian found dead by suicide in Colorado"? The girl who wanted to be a bride of Christ as a Missionary of Charity in Mother Teresa's order? The girl who checked herself in for suicide watch and self harm? Or the girl who struggled with same sex attraction since she was 14 as a faithful Roman Catholic? All of those may have been struggles, ambitions, dreams or seasons in her life, but does that make it her identity?
In today's world it may appear we have many "living saints"- but the world's definition of saints are severely lacking in our current society. I have met many holy people- gifted people, joyful people, clever, smart, brave, fun- but, quite honestly those are all overrated. The Lord's favorites seem to be the simple, the childlike, the poor in spirit or the pure of heart. Even the miserable! It's been proven, he left the 99- gifted, brave, fun and clever to go after the child, the lamb. I've heard so many say that Alana was this or that. Many good things, many bad things… and even some dishonest things. I talked to Alana right before I entered Carmel (2017) and we had not been in contact since. I understand people might have known a very different Alana in those two years, but I am only recounting my precious memories of her in this post.
Yet, none of those are what first comes to my mind when I think of Alana. In fact, I was always struck by her sincere simplicity and childlike trust. Even though she was in the body of an adult, she had the sweet disposition of a content, peaceful and even daring child. She seemed more on the quiet side, but it wasn't necessarily a shyness. She took more pleasure in listening to others and getting them to open up, than talking about herself. In Rwanda, we walked a good 18 miles to a rural village in Kibeho where Our Lady appeared in the 1980's- we were encouraged by our leader and priest Father David Nix to walk in prayerful silence to anticipate coming into what we Catholics call "the holy land".
Alana, really taking that to heart began her trek to Kibeho. It didn't take long for Alana to find a friend. A Rwandan woman claimed her as a walking partner to Kibeho, and although Alana could not speak the language she smiled, nodded and laughed as they headed to Our Lady's homeland. Alana started to get pumped as every so often the woman would point and shout KIBEHO KIBEHO. Just being in Alana's presence without being able to speak our language- or us-theirs- describes the very person of Alana. Her language was silent love. A little one. Read Alana's own words:
One of the most moving words of Alana in that post was she saw every step as a gift from God. She had utter childlike confidence in her Father and she ended the blog with- Mary's presence being all around, and how She is Mother to ALL. Alana's identify was simple: A child of God. But, God is simple. Most of us tend to forget that! We are the ones that make everything complicated.
Many remember Alana for her good works, love of the poor, her Catholic Faith-etc. But, what few know was her desperate need to be alone with The Alone. While having the opportunity to work with the Rwandan children, she often stayed behind in the chapel with a bible she borrowed from another missionary. She was detached from earth. Even though in a foreign country, her home was in front of the tabernacle. I still remember giving her my old rosary when I bought a new one in Kibeho and she apologized later saying she gave it to a child in need.
So many times I would spend time with her when we returned on American soil and I would see her sneak off to go be alone with God. Either during a movie with a group of Catholics- she would sneak to her room and pray in front of the little shrine she built- or the time we had an all night Adoration Vigil and she would be sitting by my side and eventually move away from me in our pew and move closer and closer to Jesus Christ in the Blessed Sacrament. She LOVED serving others, but she had a great need to serve God the Father. He was her end goal in all she was involved in.
Every missionary while in the great country of Rwanda shared to the group or in public, their testimonies. How they came to know God and even some of their struggles. Most of the missionaries shared how it was through suffering, Christ extended His hand to them, and through the cross they had a conversion of heart. Alana was the only one who did not share her testimony or sufferings. Even though we spent most of that trip together, talking just us two or all the times we stayed in touch for the years to come- I never knew what she had kept to herself, for years!
All she ever did was share her hopes and dreams with me- not her sorrow. Whether that be laying under the Kibeho stars by Our Lady's miraculous water, hearing her cry next to me in front of Our Lady of Kibeho's statue- tears of joy! Running on the moving walkways at the airport. Alana and I were complete opposites. I was loud, she was reserved, but don't let that fool you. She had all the good ideas. I still remember coming back to America as a group from Africa and she whispered to me how funny it would be to walk up to a random person and say- "dad?" She said she would never do that, but she would love to watch me do it. Of course I tried it out that second. Everyone was so embarrassed to be seen with me. All, but Alana!
Alana was laughing and laughing. I remember telling the group it was Alana's idea, they never believed me. Alana was sharp and had a great sense of humor, I wanted everyone to see it. I realized perfectly through my bond with Alana that loud people and reserved people make for the best of friends. They compliment each other, teach each other and in a way thrive off each other. I think we very naturally became great friends, because even in friendships- opposites attract. Alana felt like a blood sister to me in a short time, because it was easy to share with her my own struggles and not feel ashamed like she would judge me from my own past sins or present struggles.
Some of the profound impressions that Alana left on the missionaries were statements like this- " I just loved watching Alana interact- whether it be with children or homeless" or " Alana is the next Mother Teresa". Just a few weeks ago another mutual friend of ours said she had never wept so much over a death before, because there was something in Alana that she had never seen in this world, that she was just made for heaven. And we all are. But, Alana's roots were in heaven long before most of ours were. Many do not know that Alana's confirmation saint was Therese (also died at 24). Alana loved Therese. In Carmel, I read a autobiography on the death of Therese's older sister named Helene Martin- who died at age five. Therese's Mother Zelie's words were striking and reminded me of Alana:
Helene was a living angel. I am convinced children like her do not live long.
When I found out Alana died, I happened to hear a song called- Always Remember You Young. I am not a country fan, but the lyrics were as though Alana were reaching out through the song to tell me she is God's confident child, again. It brought tears to my eyes. A week or so later, I begged Our Lord to play that song if she was indeed with Him in heaven, because maybe she had some spark of repentance in her last seconds or a spark of hope in her Heavenly Father. Within minutes I heard that very song come on the radio.
When you read these lyrics- think of only Jesus and Alana- and how He looked at her- at every stage of her life- from birth to death:
And no matter how much time goes by
I hope we never have to grow up
And He'll say 'For worse or for better, from now 'til forever
I'll always remember you young

Yeah, I hope when we get to heaven
He looks at us all like we're kids
Shameless and painless and perfect and ageless
Forgives all the wrong that we did

One day you'll move away but you're still gonna stay
This innocent after you're gone
If my Alana is indeed in heaven, I pray she continues to whisper in my ear those good ideas and be my friend and sister until we meet again. I love you more than you know. Thank you, Alana for inspiring me to follow in your footsteps in being a bride of Christ. He suffered in you on earth, my only dream is to see you a bride of Christ in heaven. I offer my vows to Our Spouse for you. Like Therese, spend your heaven doing good on earth!
Updated memoir of Alana a year following her death, below:
Alana's death last December was nothing short of tragic. Just a few short weeks following my departure from Carmel of JMJ I received the news of her passing from a very good friend of mine. Her death truly devastated me and I wrote a blog post on her life and the influence her friendship had on me sometime in early 2020 called "Heart of Gold, Alana Chen". I met Alana on a mission trip to Rwanda, Africa and the first day I met her our priest leading the trip had us all enrolled in Our Lady's Scapular of Carmel. It's symbolic now that I reflect on it all. We were inseparable in Rwanda and stayed close friends until I entered religious life; she also wanted to be a bride of Christ. My last phone call with her was when she shared with me her struggles with depression and something else she had kept hidden from friends and family. That was my last conversation with her on earth.
I made this video in honor of her with this particular song, because the story behind how I discovered it is very profound. There may have been a time in my life where I favored country music, but that ship sailed long ago.. however, there was a very vivid moment right when I found out Alana had died and my sadness with how she took her own life. I was with my grandparents in the car and my Papa likes listening to country whether I like it or not, but providentially this particular song came on that I never heard before. The beginning of the lyrics didn't appeal to me at all, words of "shooting tequila" and "shutting them college bars down": the typical annoying country lyrics and usual same old stories that always make me roll my eyes. But when the chorus came on, it said "I'll always remember you young" and as the rest of the song played out the tears came and I somehow instantly knew that this song was how God the Father views Alana as His daughter: before and after her death. I am fully aware of the teachings of Our Beloved Catholic Church on suicide and I agree with it one hundred percent, but I could feel Our Lady tugging me saying "there is more to the story that you or anyone don't know about." Everyday I pray for the repose of the soul of Alana and beg God that in her last moments she perhaps called out to Jesus and Mary.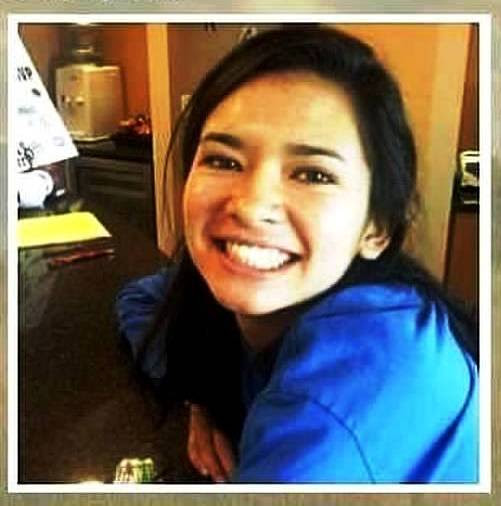 The story of this song isn't over, though. After I heard it for the first time, the tune kept playing in my head and there was a morning when I was coming home from Mass and my good old Papa just had to have the dreaded country music station on, again ("sigh"). Somewhere from the time of our leaving the Church and arriving home I prayed a silent prayer to Our Lord that if Alana was somehow in purgatory or miraculously in heaven, to please play that song before reaching the house. Just as we were pulling in the driveway the very last song that came on the radio was the song I prayed God would play. I was completely overcome by emotion; to this day I see this as Alana's song and it continues to give me hope. Please remember Alana Chen in your prayers, she died at 24 years old, just like her patron Saint, Therese and her body was found the day she consecrated herself to Mary- the feast of the Immaculate Conception. I am a firm believer in God's justice, but I also believe in His mercy…