JUST when I thought I knew everything there is to know about Our Lady of Mount Carmel, I am set straight! Dearest David Battistella, over in Italy who had me on his delightful podcast, sent me this video recently and I could not believe my ears. I think it's also providence that I learned this extraordinary fact on the feast of Carmelite Brother Brocard- he is mentioned in Saint Albert's Primitive Rule of Carmel. You know how we always hear that expression "Carmel is Our Lady's order?" I know we often roll our eyes because every order says that, right? But do you want to know why Carmel REALLY is Our Lady's Order?
This priest on Sensus Fidelium revealed how there was a group of Hermits during Our Lord's life, who, adopted the spirit of Elijah, lived on Mount Carmel and because Nazareth is so close to Mount Carmel OUR LADY OFTEN WENT TO INSTRUCT THESE HERMITS ON THE MOUNT! Jaw drops. Can you believe that? And on the way back from Egypt, Saint Joseph, Our Lady and Our Lord stopped and visited these Hermits, on their return to Nazareth, on Mount Carmel. So you see, Carmel really is Our Lady's Order because She instructed these Carmelite Hermits DURING HER LIFETIME.
I simply cannot get over it and as you can most likely imagine… I wept my eyes out because it is just so beautiful, is it not? For more please watch the short 16-minute video about what these Hermits went on to achieve for God's Kingdom. I know I talk about this a lot, but can you now see why I am so obsessed with Carmel? I just can't help it. My former Mother Superior once asked if in heaven (God-willing I even make it there) if I hope to wear Our Lady's Carmelite Habit for all eternity, I can now confidently answer: DUH! (As un-religious as that sounds, I am too excited to care).
Also this! When the Order of Carmel came under attack and was on the verge of being expunged by the Holy See, Our Lady appeared to Pope Honorius and said this:
"My orders do not admit contradiction or delay. So that you might have faith in My words, know that your judges, who are the enemies of My order [Carmel], will feel the vengeance of God this very night and will die simultaneously a sudden death."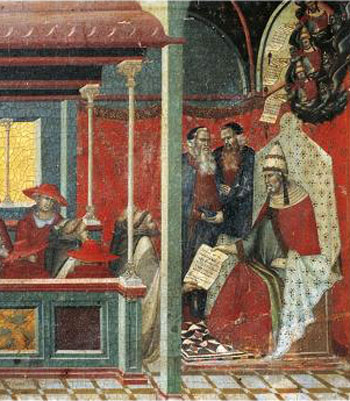 Pope Honorious called the Carmelites to approve their rule and dismissed the two judges. The Holy Virgin spoke these impressive words in a vision to Pope Honorius III in 1226, ordering him to approve and protect the Rule of the Carmelite Order, that is, the Order of Our Lady of Mount Carmel.
The next day, January 30, Honorius III learned of the deaths of the judges whom he had convoked to resolve the case regarding the approval of the Carmelite Order. The Pope then called the Carmelite religious to appear before him, embraced them warmly, and proceeded to compose the Bull Ut vivendi normam, which confirmed their Rule. The institution was definitively approved on this date.
The sons of Carmel gave thanks upon learning of this prodigy and the extraordinary protection of the Virgin Mary over their Order. The remembrance of this event was perpetuated by a feast, instituted by that same Pontiff at the request of St. Simon Stock, who was then Vicar General of the Carmelites in the West. This is the solemn feast day of Our Lady of Mount Carmel, recorded in the liturgical calendar on July 16 (https://www.traditioninaction.org/History/A_031_Carmelites_1.htm)